Ace Is The Place With The Helpful Hardware (And Generous) Folks!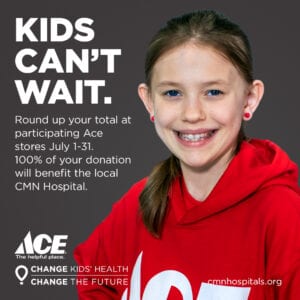 This is not a drill… for the month of July, Orange County Ace Hardware locations turned on round up for customers to donate their change to CHOC Children's! Our local participating locations have already raised over $6,000 that will directly impact patients and their families at CHOC Children's, our local Children's Miracle Network Hospital. There are still two more weeks to visit and shop at your local Ace Hardware to help raise funds for our courageous children.
Not to mention, select Ace Hardware stores will also continue their support by selling blue Ace Buckets Friday July 31 – Sunday August 2. Customers can make a $5 donation to CHOC Children's for a limited-edition, five-gallon bucket and receive 20% off almost everything that fits in the bucket.
We are so grateful for Ace Hardware's endless and annual support! In 2019, Participating Orange County Ace Hardware locations raised over $123,000 for CHOC Children's.
For more information about CHOC Children's, click here.