Kapi'olani Patient and Cancer Survivor Lily Lyman Named Hawaii's 2019 Children's Miracle Network Hospitals Champion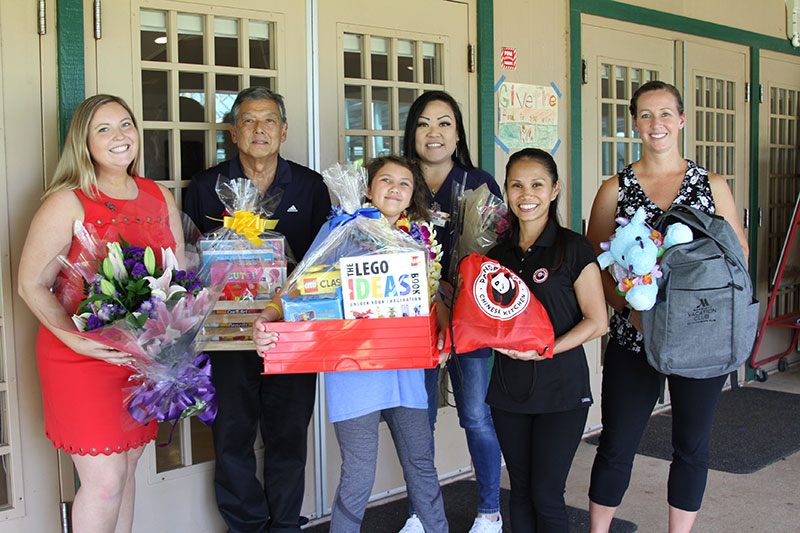 The celebration continues for Lily Lyman as her school hosted an assembly today to recognize Lily as Hawaii's 2019 Children's Miracle Network Hospitals (CMN Hospitals) Champion. Le Jardin Academy middle school students cheered for the 13-year-old after she was announced as the CMN ambassador for Kapi'olani Medical Center for Women & Children. She's a cancer survivor recovering from severe hearing loss who requires ongoing treatment from multiple specialists.
"Kapi'olani really helps me, and they don't help me just because they need to – they help me because they want to and they make it fun!" said Lily.
In this role, Champions, like Lily, share their powerful stories throughout the year. As pediatric patients who have triumphed despite several medical challenges, they truly help to illustrate why children's hospitals need local charitable support. Gifts made in Hawaii stay in Hawaii, with 100 percent of the funds going to help our local keiki at Kapi'olani.
Kapi'olani Health Foundation board members and CMN Hospitals corporate partners from Costco Wholesale, Panda Express, Ace Hardware and Marriott Vacation Clubs attended the assembly to present Lily with some of her favorite things, including a giant basket of LEGO. Lily tackles every LEGO building project one block at a time – the same way the teen has rebuilt her life after a battle with cancer.
In late 2011, an MRI scan at Kapi'olani revealed a tumor at the base of her brain. Lily had medulloblastoma. The then 6-year-old was rushed into surgery that same week, which was necessary to ensure this type of cancer wouldn't return. After surgery, Lily was transferred to Kapi'olani's Pediatric Ambulatory Unit and Wilcox Pediatric Unit for follow-up care.
"I remember every time I got a shot or something, I would cry," said Lily. "So, I just try to keep a smile. Even if there is a lot of pain, I just try to get through it."
"Lily went through a lot," said Dr. Desiree Medeiros, Lily's pediatric oncologist. "Both the radiation therapy and some of the chemotherapy medicines that Lily received can cause problems with hearing and she had pretty severe hearing loss."
Hearing aids weren't enough, so Lily returned to Kapi'olani for cochlear implant surgery. Regular visits with Kapi'olani pediatric audiologists are helping Lily adjust. The surgery is the first part of the process, then the Kapi'olani team works to customize the cochlear implants to meet her needs.
"We program it for different hearing levels and we code it so that it allows her to hear the sound that it picks up from the environment," said Ann Narimasu-Phomenone, Lily's audiologist.
"At Kapi'olani, we're fortunate enough to offer auditory verbal therapy, which isn't offered anywhere else in the state," said Kimi Perez, her speech language pathologist. "It takes an oral approach to learning how to speak and listen and it takes away all of the visual aids. Kids have to rely on their ears alone, which ends up with a higher success rate in speaking and hearing."
Staff and specialists supported the Lymans through Lily's treatment, and the family is grateful for the comfort and welcoming atmosphere they received.
"What I didn't realize for a long time was that Kapi'olani is a not-for-profit," said Lily's dad, Christopher. "I think when you go to a store and they're asking for donations for Children's Miracle Network, you don't see it – but being on the receiving end of it, it's huge."
"I think Lily's going to be a great champion because her positivity is so effortless," said Lily's mom, Misty. "There's something magnetic about it – you want to be around people like that and you want to help people like that."
Every CMN Champion creates a signature pin for their ambassador year. Lily has selected a lily flower in purple, her favorite color. The flower not only reflects her name, but also the beauty and resilience of nature.
"I want people to see my pin and think of someone who survived cancer, broke through hearing loss and can still do all these things," Lily said.
These incredible ambassadors represent the 10 million kids treated at CMN Hospitals every year. Lily's story will be shared locally and nationally as part of the ongoing efforts by CMN Hospitals to show the impact donations make to care for children, no matter their illness or injury. CMN Hospitals are dedicated to providing specialized medical care to children regardless of their ability to pay.
PHOTO CAPTION
From left to right: Colette Forcier, Kapi'olani CMN Director; Guy Kamitaki, HouseMart Ace Hardware; Lily Lyman, 2019 CMN Hawaii Champion; Gina Nakahodo, Iwilei Costco; Aldene Agpaoa, Panda Express; and Jill Munas, Marriott Ko Olina Beach Club.
Article provided by: Kapi'olani Health Foundation Staff