Local Ace Hardware Stores Provide a Room Makeover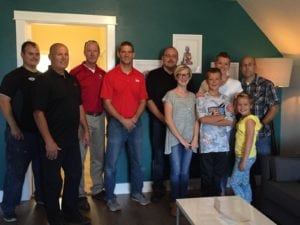 The Jensen family is no stranger to cancer.
Two of the family's three children, Sirri and Meg, have been diagnosed with cancer. While Sirri has successfully beat cancer, Meg's battle continues. Both girls have been under the excellent care of the team at Primary Children's Hospital. It should come as no surprise that these battles with cancer have caused a great deal of stress for the girls' parents. One way the parents cope with the stress is exercise so they planned to use a tax refund to convert an extra room in their home into an exercise room. However, the tax refund was needed to cover the girls' medical bills.
When local Ace store owners heard about the family's plight they immediately jumped into action. They graciously donated the materials and labor to make over the room into the family's dream exercise room. A local news crew was on hand to capture the family's reactions when seeing the room for the first time.
Ace Hardware is a long-time partner of Children's Miracle Network Hospitals and has raised nearly $70 million to help sick and injured kids.