8th Annual ABC15 Telethon Benefiting Phoenix Children's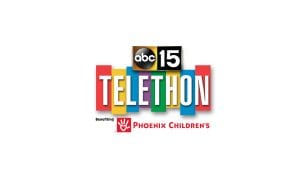 ABC15 will host the eighth annual ABC15 Telethon benefiting Phoenix Children's on Tuesday, April 9 from 6:00am – 10:35p. Be sure to tune-in and call the live phone bank 602-933-2649. The event, broadcast live from the Hospital campus, raised over $820,000 for Phoenix Children's patient families in 2018, a record for the Telethon.
Telethon includes appearances from ABC15 on-air personalities, a phone bank staffed by sponsors and community volunteers, celebrity cameos and inspirational stories shared by the hospital's superhero patients.
Donors will have the chance to become Heroes for Hope and save the day for Phoenix Children's patients by giving a Superhero Sidekick to a child when they make a monthly pledge of $20 or a single gift of $240 or more. Call during the 9:00am, 4:00pm and 10:00pm hours to double your matches. Every dollar raised during the ABC15 Telethon will have a direct impact on patient care and critical programs and services provided to patients and families.
The following corporate sponsors and partners make this event possible. Telethon sponsors include: Desert Financial Credit Union, Dutch Bros. Coffee, Horne Kia, Jersey Mike's Subs, My AZ Lawyers, Sanderson Ford & Lincoln and Scripps Howard Foundation. Additional partners include: Ace Hardware, American Textile Recycling Services, Ameripark Valet and Macerich, Big O Tires, Community Auctions, Desert Diamond West Valley Casino, Discover, Fry's Food Stores, Harley-Davidson of Scottsdale, IHOP, Lerner and Rowe Gives Back, Macy's, Panda Express, PayPal, Inc., Quicken Loans, Sagicor Life Insurance Company, Sam's Club, Silicon Valley Bank, V.I.P. Mortgage, Inc., Valley of the Sun Active 20-30 Club / Valley Kids Foundation, Walmart and Whataburger.