Blessings…
Hello,  Isn't it great that March is coming in like a lamb and hopefully will continue to be a dear little lamb all the way to April!
Fundraising in March and April.
Dairy Queen is having Free Cone Day on March 19 – Dip It For Kids.
Ace Hardware's will be rounding up for us in April. ALSO a huge shout out to Ace Retail Center and our local Ace Hardware's for raising $132,221 for OSF Children's Hospital
Circle K will have their fundraising campaign starting April 10 – May 3
Love's Travel Stop – April 6 – 10 – Rounding Up for Kids to celebrate Children's Hospital's week.
Central Illinois Early Ford V-8 Club is hosting their car show on April 11 at the Avanti's Dome in Pekin.
Tom Brewer will do his Tom's Walk for CHOI from April 25 – May 2.  Walking from Monmouth, IL to Peoria.  Rain, Snow or Shine!
THANK YOU TO ALL OUR FANTASTIC FUNDRAISERS!
Miracle Minute – Anytime a child is sick or injured it's tough… but this family got a double whammy!  Meet our Miracle Kids… Carrisa and Tad.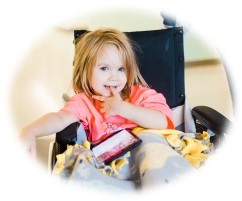 I got the phone call from a friend who is an EMT that there was an accident with my two-year old daughter, possible amputation, but he didn't have a lot of detail. I knew Carrisa was with my husband. I immediately started calling and texting him but he didn't answer. I panicked. I couldn't help but think the worse. After what seemed like forever, my husband finally called me back. He told me Risa was run over by the mower. He was so upset that I could barely understand what he was saying. He thought she was going to lose her foot, maybe even her leg.
A Life Flight Helicopter came for Risa and flew her to OSF Children's Hospital of Illinois where she was rushed into emergency surgery to try to save her toes, foot and leg. After four and a half hours, the surgeon came and told us that he was able to save everything, even her tiny little toes. We were all amazed and grateful for the team at OSF Children's Hospital.
That day was stressful and long, but it was just the beginning of our story with OSF Children's Hospital.
The day of Carrisa's accident, I was about 24 weeks pregnant. We have two kids at home, but I needed to stay with our little girl day and night. I allowed myself a break for dinner or to go home for short periods, but I couldn't stand that she was there without me so I would hurry back to the Hospital.
At my next obstetrician appointment, my doctor noticed something wasn't right with my pregnancy. There were complications and I was placed on bedrest in the antepartum unit at OSF. I was there for eight days. At 27 weeks, our little boy Tad was born and immediately taken to the NICU. He did really well at first, but then an artery in his lungs burst. We didn't think he would survive that night. His machines were turned as high as they could go. Somehow, the staff stabilized him.
OSF Children's Hospital became my home – Carrisa, on one floor and Tad on another. I don't know how we made it through those days. It was a constant cycle of visiting and pumping for Tad an hour or two each day, then back to entertain Risa with toys and wheelchair rides down the halls.
OSF Children's Hospital is so important to our family. From the surgeons, to the nurses, to the people that delivered our meals…everybody was wonderful. Without a place like this, I don't know what we would have done.
The doctors say Risa will make a full recovery and be able to use her leg again but it'll take a lot of therapy.  Baby Tad, is getting bigger and stronger and came home in December. We are still just taking it one day at a time. We are very thankful that OSF Children's Hospital was close to home and we got the best possible care for our children. – Shanna, mom
THANK YOU for being our partner in children's health!