Buckets of Miracles!
July 31st- August 2nd
If you're waiting for a sign to tackle that home project you've been pushing off, it's here! Handyman Ace Hardware stores in our area will be selling limited-edition 5-gallon buckets for a $5 donation. The best part? Almost everything you can fit inside will be 20% off and 100% of proceeds from the sale of buckets will come to Dayton Children's!
Ace Hardware is also asking customers to "Round-Up" for the kids, so you can make your donation go even farther by donating your change!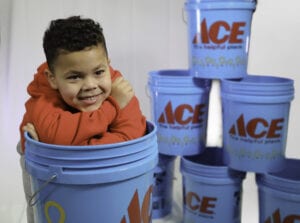 In 2019 local Ace Hardware stores and their customers raised $32,902.26. This support provided our patients with the equipment and technology they needed.
Learn more about The Ace Foundation fundraising for CMN Hospitals: https://acehardwarefoundation.org/.
Watch this Flipbook video that perfectly explains Miracle Bucket Day!