Eastham Ace Hardware Ranks Nationally in Helping Kids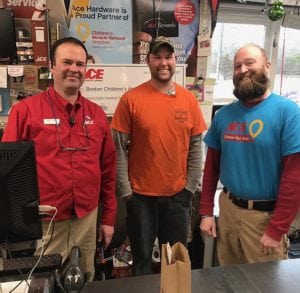 Today, 11,000 people will walk through the lobby of Boston Children's Hospital. 100 miles away, the Krum family is making a difference in these lives, one dollar at a time. 
There are many reasons why Eastham, Massachusetts is special; the breathtaking coastline, the incredible beaches, and their local hardware store.
Eastham Hardware in Eastham, Massachusetts was founded in 1991 by Shawn and Gary Krum. Today, the store is run with the help of their three sons Seth, Brad and Darin.
"One of the most important things we do every day is to help people. Most of our neighbors come to us with a problem of some sort and it is our job to solve it for them, or at least put them on the right path to get their job done. In addition to helping our neighbors solve their home improvement problems, we take great pride in helping our neighbors at Boston Children's Hospital", says Darin Krum, co-owner for Eastham Ace Hardware.
Their personal connections with their community are seen at the various barbecues, raffles and events they organize and plan throughout the year to benefit Boston Children's. They rally their neighbors, friends and families even in the winter months to come together and make a difference. People in the community just stop in simply to say "hi" to the Krum's and their employees- they know everyone's names and everyone knows them. They ask about each other's families, dogs, recent home innovation project, and always, if they would like to donate to their local children's hospital.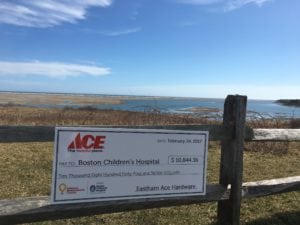 But still, they want to do more. Last year they raised just under $12,000 for the hospital. This year they are hoping not only to do better, but to win an extra $10,000 donation by becoming one of the top ten fundraising stores for Ace Hardware nationally- for which they are currently standing at number 11.
"We are pulling out all the stops this December by offering two "stocking sales" where customers may purchase a 42" over-sized stocking for a $5 donation to Boston Children's and receive 20% off whatever fits in the stocking", says Darin. The sale dates are scheduled for Saturday, December 16th and December 23rd.
With their store located in one of the least-populated areas of Massachusetts in the winter months- their fundraising numbers are inspiring, and they only continue to increase. What makes this cause so important to the people in Eastham, Massachusetts? Their personal connections to the hospital. There is a reason they care so much about the cause.
"We are proud to have several employees who were patients at Boston Children's, as well as one of my daughters, who is currently a patient. We recognize the important work done at Boston Children's Hospital, not only for our family and employees, but for all the patients and families who are helped by this hospital", says Darin.
And the final message they want to get out into the community- "the holiday season can be particularly hard on families at the hospital. Eastham Ace Hardware wants to be the "Helpful Place" not only for our customers this holiday season, but the "Helpful Place" for Boston Children's Hospital". We couldn't put it better ourselves.