GIVE-A-THON WEEK RAISES MORE THAN $1.84M FOR PHOENIX CHILDREN'S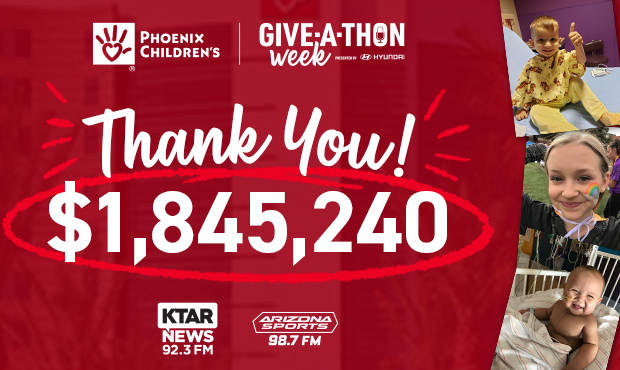 With the help of KTAR NEWS 92.3 FM, 98.7 FM ARIZONA'S SPORTS STATION, KTAR.com and arizonasports.com, communities across Arizona gave more than $1,845,240.00 to support world-class care at Phoenix Children's.
The event, broadcast over five days, was led by KTAR and Arizona's Sports personalities and included heartfelt and inspirational stories from Phoenix Children's patients: Gia, Izzy, Stella, Kate, Brooke, Chase, Katie and Lukas. All of the proceeds generated will directly benefit Phoenix Children's Hope Fund, which funds essential equipment and technology making it possible to provide lifesaving care so the hospital can reach more children across the state of Arizona and nationally.
"This is really an event of inspiration for everyone involved at the stations and we are honored to be part of such a signature fundraiser for Phoenix Children's," said Scott Sutherland, Senior Vice President and Market Manager of Bonneville Phoenix. "We strive to build up, inform, connect and celebrate our community, and there isn't a better example of doing that than the Give-A-Thon for Phoenix Children's. A big thank you to our loyal audiences, along with our sponsors and partners, who helped make this year's event one that we will never forget."
Funds raised during Give-A-Thon make an impact on the delivery of expert, family-centered care for more than 200,000 patients each year. Without the generosity of caring people in the community, Phoenix Children's wouldn't be able to offer more than 60 Phoenix Children's programs and services, funded entirely or partially by philanthropy. Art therapy, music therapy, animal-assisted therapy, and the 1 Darn Cool School are examples of these programs that play a critical role in the healing process by bringing normalcy to patients and their families.
"We are so grateful for the support of KTAR, Arizona's Sports Station and the local community," said Steve Schnall, Phoenix Children's Hospital Foundation's Senior Vice President and Chief Development Officer. "Kids can't wait and the KTAR Give-A-Thon is an important reminder that when we put out the call, the community will step up and make sure kids get the top notch healthcare they need."
Give-A-Thon is made possible thanks to corporate sponsors: Valley Hyundai Dealers, ACE Hardware, Aflac, Carl's Jr., Desert Financial Credit Union, The UPS Store, and TRANE Heating and Cooling. Give-A-Thon's community partners include: Alaska USA Foundation, American Textile Recycling Services, Angry Crab Shack, Arizona Central Credit Union, BOK Financial, Bumper to Bumper, CDW, Cobblestone Auto Spa, Earnhardt Hyundai Avondale, Earnhardt Hyundai North Scottsdale, Embry Health TestNOW, Fiesta Bowl Charities, Fry's Food Stores, Hinkley's Lighting Factory, Howard Air, In-Group Hospitality | Staybridge Suites, Knight-Swift Transportation, Lockton Companies, LLC, Massage Envy, Pacific Office Automation, Panda Express, Papa John's Pizza, R&K Building Supplies, Rosati's, RSM US LLP, Sagicor Life Insurance, Sam's Club, San Tan Hyundai, Speedway, Spirit Halloween Superstores, Super Star Car Wash, Toll Brothers, Inc. | Sterling Grove, Verco Decking, Inc., Walbro, Walgreens, Walmart, Wildlife World Zoo & Aquarium, and Zia Records.