Giving Thanks during COVID-19
In the wake of COVID-19 the Central Valley community has not halted their generous donations. We have been blown away by the amount of support that we have received at Valley Children's.  We would love to thank all individuals and organizations that have donated in the past couple of months. We have received thousands of masks, gloves, gowns, isolation suits, diapers, imperishable food, meals and many more supplies. Banks such as Premier Valley Bank, Wells Fargo, and Bank of America have pitched in to help! It was also extremely special to see four fighter jets fly over the hospital in honor of our health heroes just last week.
We would also like to thank all of our Children's Miracle Network essential heroes who have been hard at work. Thank you to all grocery store laborers, quick-service and fast food partners, and many more. Thank you for staying open, staying clean, and staying kind. We can only imagine the stress that you are under. We are grateful for you.
It is truly an honor to serve in a community that values giving back. Thank you, from the bottom of our hearts, for your support. We will get through this.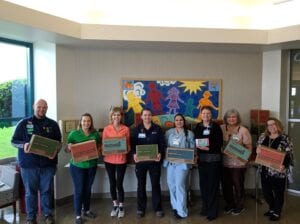 Hospital Staff receive donated girl scout cookies.