Marc Bulger to Represent Vanderbilt Children's at Ace Shootout 2020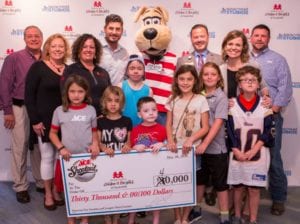 Marc Bulger will again represent Monroe Carell Jr. Children's Hospital at Vanderbilt on Team Football at the 2020 Ace Shootout. Marc had an 11-year career in the NFL and is a two-time Pro Bowler. He will be joined by former Chicago Bears player Brian Ulracher to form Team Football for the Ace Shootout this year.
Fans will be able to vote for their favorite player starting March 15 at AceShootout.org.
In 2019, the Ace Shootout raised $2.6 million in support of Children's Miracle Network Hospitals.