Partner Spotlight: Ace – Helpful Isn't Just a Word, It's a Way of Life
Ace is your local hardware store and they take pride in being a part of your community. Ace Hardware has over 5,000 stores around the world with most of those stores independently owned and operated by local entrepreneurs. These hard-working men and women are part of the fabric of your community. They are small business owners who are local and loyal…just like it ought to be. While others have become large and impersonal, Ace has remained small and very personal. That's they say a visit to Ace is like a visit to your neighbor.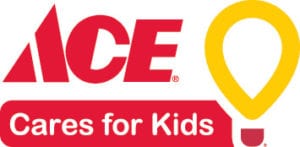 This local and loyal mentality is one of the reasons for the longstanding partnership Ace Hardware has built with Children's Miracle Network Hospitals since 1991 – we both believe in the power of local. Ace retailers not only pride themselves on being well-connected with their communities, but also want to give back locally to their neighbors, friends and families. Supporting their local CMN Hospital is the perfect opportunity to do so. Through their retailers and customers, vendor partners, and corporate team members, Ace has raised over $107 million for CMN Hospitals.
Ace stores come in all sizes and shapes based on the needs of each individual neighborhood. They have small, urban stores, large rural stores and everything in between. Ace stores offer a wide variety of paint, lawn and garden, tools, local niche services and virtually anything you'll ever need to fix, repair and maintain your home. And of course, Ace is most certainly the place with the helpful hardware folks!
Ace exists to help others. This is not only true to their business, but through the amazing help Ace employees and customers provide to local children's hospitals. The year-round support and fundraising executed by Ace falls into three main categories:
Retail Fundraising: round up, buckets, icons, coin canisters, World's Finest Chocolate sales, convention fundraising and retail events
Vendor Fundraising: The Ace Shootout, Robbie Gould Celebrity Golf Tournament, Vendor Golf Outing, Stanley Race for Miracles, sponsorship and in-store CCV promotions.
Corporate Fundraising: payroll "Change for Kids" campaign, corporate events, fundraising events at 14 Retail Support Centers (warehouses) and more. Corporate employees are fundraising year-round as well as finding volunteer opportunities at the hospital.
We are so grateful for our partnership with Ace! In 2018 alone, your local Ace hardware stores raised an amazing $282,496.43 for Seattle Children's Hospital!
Thank you to all the Ace employees, customers, and vendors – we wouldn't be able to provide such a high level of care to kids in our community without your support!