#ThrowbackThursday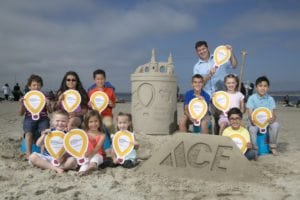 As the space heater by my feet gently reminds me, winter is coming. Today's #ThrowbackThursday takes us back to summer, when our friends at ACE Hardware shared their passion for fundraising for our local kids in a very unique way, at a very special location – the beach!
Thanks to the amazing talent of Sand Guy Rusty Croft, the ACE Miracle Bucket took a new form as an over-sized sand sculpture on a beach in Monterey! We are grateful to have the support of the Sand Guys and of course of our local ACE Hardware locations.
The hours-long sand sculpting process drew lots of attention and appeared on countless social media posts from spectators over the course of the day. Tourists from all over the world stopped to snap a selfie, including one tour group all the way from Japan. While the beautiful sculpture was washed away with the tide, we are grateful for the experience (and the photos!) that it provided.