Westlake Ace's Joe Blackshere Recognized for Dedication to CMNH!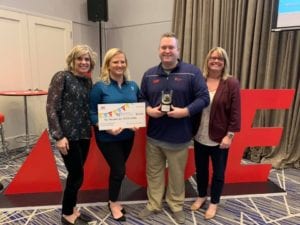 If there is one thing we know about Westlake Ace Hardware, is that they are dedicated to creating a culture of giving throughout their organization. At Westlake Ace's General Manager's conference in January, the organization's leadership dedicated a portion of the program to celebrate their goal-busting CMNH fundraising in 2019. Joe Blackshere, Senior Manager of Operations Support, took the stage to reveal Westlake Ace Hardware locations raised $665,457 for their local Children's Miracle Network Hospitals!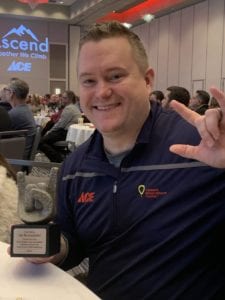 The highlight of the presentation, however, was Joe's surprise when he was awarded the "Rock On" award which came with a $10,000 gift to CMNH at the University of Kansas Medical Center in his name! Joe was clearly emotional as a slideshow of his 7 years of support of Children's Miracle Network Hospitals was played to the packed house, including his wife and three kids! Joe has worked tirelessly to promote Children's Miracle Network Hospitals and share his passion with Westlake Ace Hardware associates at all levels. We are immeasurably grateful to have supporters like Joe, and we agree with Ace Hardware…Joe rocks!