Miracle Buckets at Ace Hardware August 4-5
On Friday and Saturday Aug. 4-5, participating Ace Hardware locations are making miracles for the kids at UF Health Shands Children's Hospital. Locations will be selling specially designed Children's Miracle Network Hospitals buckets in exchange for a $5 donation. In addition to getting a great bucket, customers will also receive 20 percent off everything that fits in the bucket.
Last year, Ace Hardware locations throughout the Tallahassee, West Palm Beach and Gainesville areas raised over $19,000 to support UF Health Shands Children's Hospital. These funds support lifesaving medical equipment, meaningful programs like Child Life and transformational research for over 150,000 pediatric patients treated each year. Nationally, Ace Hardware raised over $7 million for children's hospitals throughout the U.S. in 2016.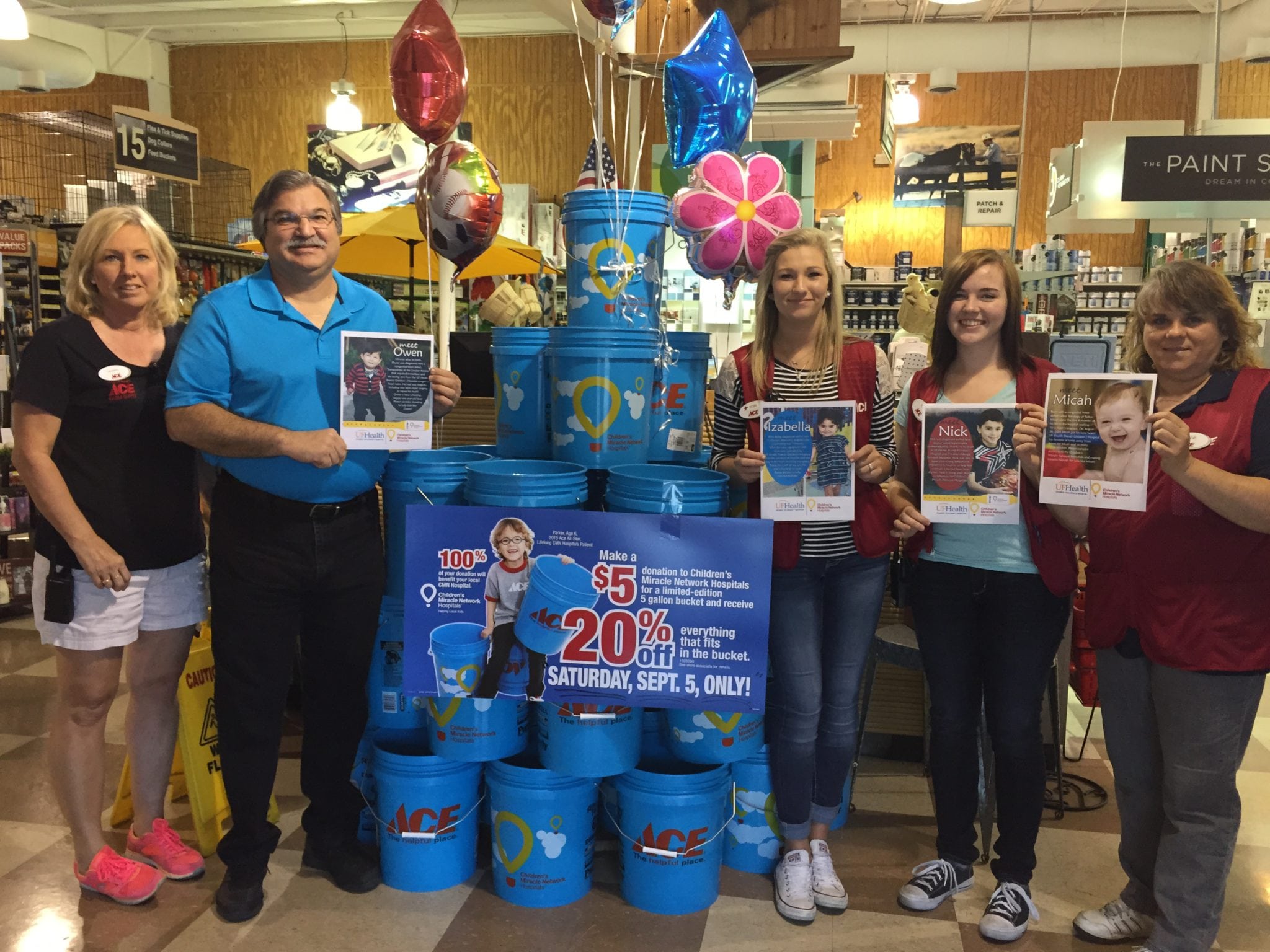 Below is the current list of Ace Hardware locations supporting UF Health Shands Children's Hospital through the bucket promotion. Note: This list will be updated as we are made aware of more participating locations.
Newberry Ace Hardware- Newberry, FL
Williston Ace Hardware- Williston, FL
Jonesville Ace Hardware- Jonesville, FL
Millhopper Ace Hardware- Gainesville, FL
University Ace Hardware- Gainesville, FL
Wildwood Ace Hardware- Wildwood, FL
Ace Hardware- Boynton Beach, FL
Hilltop Ace Hardware- Clermont, FL
Ragans Ace Hardware- Perry, FL
Ace Hardware of Dunnellon- Dunnellon, FL
Woodville Ace Hardware- Tallahassee, FL
Archer Ace Hardware- Archer, FL
Chiefland Farm Supply- Chiefland, FL
Village Ace Hardware- The Villages, FL
Rocky's Ace Hardware- Wellington, Stuart, Tequesta, and Port St. Lucie, FL locations
Groveland Ace Hardware- Groveland, FL
Trenton Hardware & Farm Supply- Trenton, FL
Madison Ace Hardware- Madison, FL
Belleview Ace Hardware- Belleview, FL
Thank you, Ace Hardware, for making miracles happen for the kids at UF Health Shands Children's Hospital!