Ace Hardware Doubles Holiday Campaign Total
Congrats to the 11 ACE Hardware retailers below who participated in ACE's recent Holiday Round-Up Campaign for Penn State Children's Hospital. This campaign proved to be the most successful Round-Up campaign for our market to date raising $15,723.29 in November and December, which is more than double the 2017 Holiday Round-Up total of $7,338.45!  Special thanks to the top 3 retailers:  Key-Aid ACE in Ephrata, Littlestown ACE in Littlestown and Hepfers ACE in Lemoyne.  Hepfers even made it on the Top 20 list of ACE Retailers across the country who turned on Round-Up for the first time and received a $1,500 gift to CMN from Scott's "Grow More Miracles" contest – way to go to the Hepfers crew!
"Round Up" raises just a little at a time, but BIG miracles come from small acts of kindness – miracles like providing life-saving equipment for really sick kids.  CMN was able to purchase a portable CT Scanner which lets hospital staff capture head imaging on children who are so critically ill with head trauma, seizures and more that it's dangerous to move them from the Pediatric Intensive Care Unit (PICU).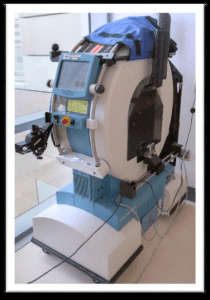 Children like Gavin who fell from an open second-story window when he was 5 and fractured his skull.  After 11 days in a medically-induced coma, he awoke, received intensive rehabilitation and surgery to repair hearing loss in one ear.  Today, Gavin is 16, over 6 feet tall and loves playing sports. Best of all, he has no lasting complications from his scary accident.  Thank you for Rounding-Up to help CMN provide the best care possible for children treated at Penn State Children's Hospital!
Store
Name
City
Round Up 11/23-12/31
Key-Aid Ace Hardware
Ephrata
$3,198.57
E M Herr Farm & Home Center
Willow Street
$288.21
Dutch Country Ace Hardware
Myerstown
$1,377.50
E M Herr Ace Hardware
Columbia
$314.33
Hepfers Ace Homecenter
Lemoyne
$1,949.85
(Hepfers prize donation)
 
$1,500.00
Littlestown Ace Hardware
Littlestown
$2,202.94
Jono Hardware
Jonestown
$1,072.58
Ace fix-it Hardware-Dillsburg
Dillsburg
$226.31
Hornungs Ace Hardware
Linglestown
$1,179.08
Cashman's Ace Hardware
East Berlin
$836.00
Bomberger's Store
Lititz
$1,577.92