Ace Hardware Sets New Annual Fundraising Record for Lurie Children's!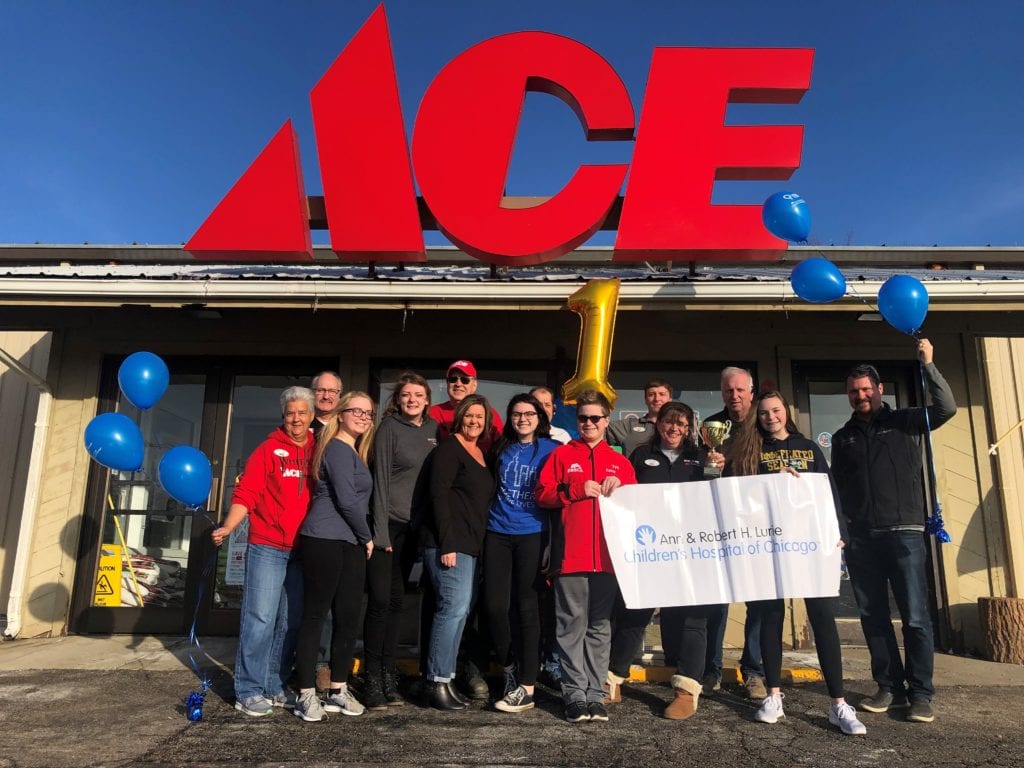 In a year full of uncertainty, Ace Hardware has lived up to its name as "The Helpful Place" by uniting its retailers, vendors and corporate employees to raise more than $2.3 million in support of Lurie Children's, including the Center for Cancer and Blood Disorders and Department of Family Services.
Since the COVID-19 pandemic began, Ace stores across the country stepped up in many ways to support their local communities and in 2020, Chicagoland and Northwest Indiana Ace Hardware retailers raised a total of $869,264 in support of Lurie Children's – a new fundraising record and more than $36,000 than their 2019 total.
More than 63 percent of retailer fundraising is raised through Round Up donations made by customers at checkout and the holiday season was once again Ace's largest fundraising period. In Chicago, this holiday fundraising is fueled through friendly competition with the Lurie Children's Bracket Challenge, which puts stores head-to-head to see who can consistently get the highest percent of transactions to round up.
For the third year in a row, the 2020 Round Up Bracket Challenge winner was Whitmore Ace Hardware Manhattan and the runner up stores were Whitmore Ace Hardware Manteno, Whitmore Ace Hardware Mokena, and Laskowski's Ace Libertyville. Each of these stores won a special Lurie Children's celebration for their teams!
Nationwide, Ace Hardware retailers in Chicago helped raise an addition $19,500 in donation to Lurie Children's through the Duracell Power up the Miracles tournament. The tournament awards stores across the country with the highest percent of transaction to round up with donations to their local CMN Hospital. Congrats to the following stores for their achievements:
1st Place – Whitmore Ace Hardware Manhattan
2nd Place – Whitmore Ace Hardware Mokena
19th Place – Ziegler's Ace Hardware Lake in the Hills
22nd Place – Laskowski's Ace – Libertyville
23rd Place – Whitmore Ace Hardware – Braidwood
30th Place – Horton's Ace Hardware
Finally, four Ace Hardware stores won $40,000 in donation to Lurie Children's by ranking in the top of all stores for 2020 fundraising. Weiss Ace Hardware, Laskowski Ace Hardware, Gordon's Ace Hardware, and Whitmore Ace Hardware each won a $10,000 donation to Lurie Children's in their stores name for their successful fundraising in 2020.
On behalf of everyone at Lurie Children's, thank you to everyone at Ace Hardware for their continued support of Lurie Children's and the patients and families we serve.