Ace Hardware's 2018 Holiday Campaign A Massive Success!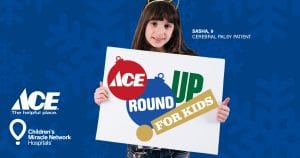 This holiday season, our Ace Hardware retailers in the Cincinnati area had their most successful November/December round-up campaign yet, coming in at just over $7,500! This is more than twice their total during the holiday round-up last year.
Associates at local Ace stores have been asking customers to round-up in support of Cincinnati Children's pediatric cancer care program from November 23rd to December 25th. Thanks so much to our 9 stores who participated in this round-up campaign, and to all our partners at Ace for an amazing year of fundraising and advocating for Cincinnati kids. We're looking forward to continuing these efforts in 2019!