All-star athletes compete for local CMN Hospitals at Ace Shootout on Golf Channel, March 27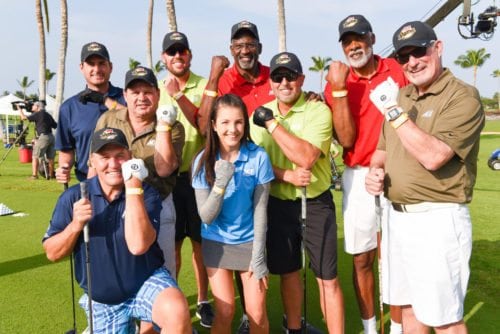 SALT LAKE CITY (March 22, 2017) – Sports legends from basketball, football, hockey and baseball will go head-to-head in the Ace Shootout golf tournament that raises funds for Children's Miracle Network Hospitals premiering March 27, 5 p.m. ET on Golf Channel.
This year marks the 20th anniversary of the Ace Shootout, where all-star athletes gather in Hawaii to compete for their local children's hospital. Members of the 2017 teams include:
Team Basketball

Julius Erving, "Dr. J", the 11-time NBA all-star and one of the NBA's 50 greatest players, playing for Children's Healthcare of Atlanta.
Cliff Levingston, two-time NBA Champion with the Chicago Bulls, playing for Ann & Robert H. Lurie Children's Hospital of Chicago.

Team Hockey

Mike Eruzione, captain of Miracle on the Ice Hockey team in the 1980 Olympics, playing for Boston Children's Hospital.
Clark Gillies, four-time Stanley Cup Winner and Hockey Hall of Famer, playing for Cohen Children's Medical Center of New York.

Team Football

Marc Bulger, who played 11 years in the NFL and is a two-time Pro Bowler, playing for Monroe Carrell Jr. Children's Hospital at Vanderbilt in Nashville, Tenn.
Mark Rypien, two-time Super Bowl champion and Super Bowl MVP, playing for Sacred Heart Children's Hospital in Spokane, Wash.

Team Baseball

John Lackey, World Series' champion with the Chicago Cubs, playing for Hendrick Children's Hospital in Abilene, Texas.
Kevin Millar, MLB Network Analyst and member of 2004 World Series champions, the Boston Red Sox, playing for Dell Children's Medical Center of Central Texas.
"We thank the Ace vendors who have made it possible to raise more than $20 million in the last 20 years through the Ace Shootout," said John Lauck, president and CEO of Children's Miracle Network Hospitals. "It's really an amazing experience to see these athletes come together for such a great cause. The funds raised are invaluable to CMN Hospitals and help provide our member hospitals with the needed resources to save and improve kids' lives."
This year's Ace Shootout raised more than $2 million for CMN Hospitals. Now celebrating its 20th anniversary, the Ace Hardware Celebrity Golf Shootout has raised more than $20 million for kids treated at member CMN Hospitals. The Ace Shootout will conclude #ChildrensHospitalsWeek, a week-long initiative to shine a light on the importance of children's hospitals and how donations help kids across North America get the best care when they need it.
Fans can vote for their favorite player at www.aceshootout.org. The player with the most votes will win a $25,000 donation for the hospital they're representing in the Shootout.
###
About Children's Miracle Network Hospitals
Children's Miracle Network Hospitals® raises funds and awareness for 170 member hospitals that provide 32 million treatments each year to kids across the U.S. and Canada. Donations stay local to fund critical treatments and healthcare services, pediatric medical equipment and charitable care. Since 1983, Children's Miracle Network Hospitals has raised more than $5 billion, most of it $1 at a time through the charity's Miracle Balloon icon. Its various fundraising partners and programs support the nonprofit's mission to save and improve the lives of as many children as possible. Find out why children's hospitals need community support, identify your member hospital and learn how you can Put Your Money Where the Miracles Are, at CMNHospitals.org and facebook.com/CMNHospitals.
About Ace Hardware
For more than 90 years, Ace Hardware has been known as the place with the helpful hardware folks in thousands of neighborhoods across America, providing customers with a more personal kind of helpful. In 2016, Ace ranked "Highest in Customer Satisfaction with Home Improvement Retail Stores, Ten Years in a Row," according to J.D. Power. With more than 4,900 hardware stores locally owned and operated across the globe, Ace is the largest retailer-owned hardware cooperative in the world. Headquartered in Oak Brook, Ill., Ace and its subsidiaries currently operate 17 distribution centers in the U.S. and also have distribution capabilities in Ningbo, China; Colon, Panama; and Dubai, United Arab Emirates. Its retailers' stores are located in all 50 states, the District of Columbia and approximately 60 countries. For more information on Ace, visit acehardware.com or visit our newsroom at newsroom.acehardware.com.
Downloads