Chalking it Up to Gratitude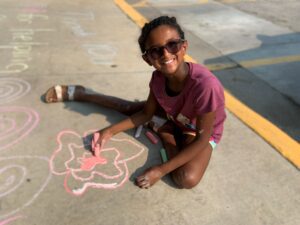 A favorite role for our miracles families is to visit local partners and personally say "Thank You." Due to the pandemic, this outing has been greatly missed until now. In September, we launched a new way for families to show our partners how much their fundraising is appreciated in a fun and safe way through chalk messages!
Our CMN Chalk Cheerleaders made the first debut of their creativity through words of thanks, inspiration, and fun drawings to our Westlake Ace Hardware locations during their September Round Up Campaign. Westlake Ace employees loved seeing the colorful messages as they begin their day and our CMN families got back to doing what they do best… expressing their gratitude!
The Round Up Campaign raised over $69,000! Many thanks to the hard work of Westlake Ace and the cheerleading from our families for each making a difference in their own ways. Be on the lookout for more amazing work from our Chalk Cheerleaders in the community.