Hardware and Healthcare – Thank You to Ace!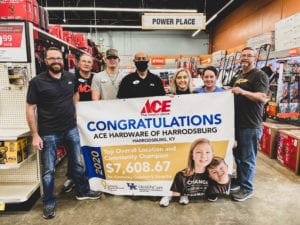 When you walk in the door at 920 North College Street in Harrodsburg, Kentucky, you'll find a store full of hardware supplies — and children's healthcare heroes. 
During 2020, this Ace Hardware store raised $7,608.67, every dollar of which will stay local to support kids at Kentucky Children's Hospital. Though the store just opened in 2020, their efforts made them the top Ace Hardware fundraising location for KCH in that year. 
Where did the money come from? 99.4% of it came from customers rounding up their purchases to the nearest dollar. Those pennies are powerful—combined, they will help purchase life-saving medical equipment, support specialist programs and provide patient and family education.  
Store employees have created a culture of giving, asking customers to round up for Kentucky's kids. Operations director Chris Hart encourages his associates to ask every time, and KCH's impact has even reached their team and community members. 
"One of our cashiers is a champion for this cause because her granddaughter has received treatment at Kentucky Children's Hospital," says Hart. "We are looking forward to doing even more as a Children's Miracle Network Hospitals partner in 2021."
Despite enormous obstacles presented to retail industries during the COVID-19 pandemic, Ace Hardware kept its fundraising goals in sight. Combined, Ace Hardware locations raised $20,598.08 for KCH throughout 2020. 
In 2021 Ace Hardware celebrates its 30th year as a Children's Miracle Network partner, with $141,728.10 raised for KCH throughout the partnership. Their relentless determination in the face of challenges has made them an invaluable partner. 
We can't wait to see what Ace Hardware accomplishes in 2021!