Join us for Ace Bucket Days! Friday, July 31 – Sunday, August 2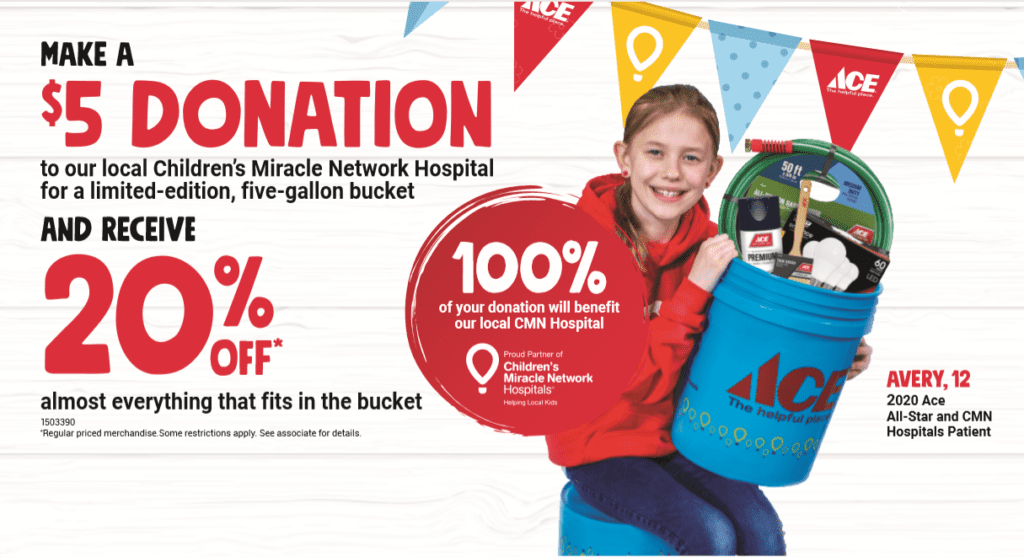 On Ace Bucket Days weekend, participating Midlands locations will be selling 5-gallon Ace Blue Buckets for a $5 donation to benefit local CMN Hospitals. Customers who purchase a bucket will, in turn, receive 20% off almost everything that fits inside their bucket!
Ace Hardware locations in Holly Hill, Cayce and Columbia-Beltline are also asking customers to round up their total to the next dollar amount and donate the change to Prisma Health Children's Hospital–Midlands. Last year, Ace Hardware raised more than $13,000 to help children and their families receive the best care close to home.
Since 1992, Ace Hardware has raised more than $138,000 for Prisma Health Children's Hospital–Midlands through fundraising efforts including Ace Bucket Days, Round Up, vendor engagement and other retailer initiatives.
For more information about The Ace Foundation and their efforts for CMN Hospitals, visit  https://acehardwarefoundation.org/.