Ace Hardware Miracle Bucket Days Kick Off This Weekend!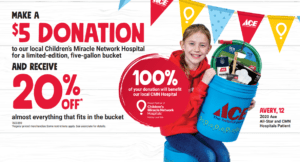 Starting this Friday, July 31 through Sunday, Aug 2, you can purchase a special edition 5-gallon Miracle Bucket for a $5 donation.
One hundred percent of your donation will benefit your local CMN Hospital. In return, you'll also receive 20% off almost anything you can fit in you bucket!
Fill your bucket and help Seattle Children's fulfill our mission to provide hope, care and cures to help every child live the healthiest and most fulfilling life possible.
Since becoming a Children's Miracle Network Hospitals partner in 1991, Ace Hardware has raised more than $107 million for local Children's Miracle Network Hospitals across the country. This success stems from the creative fundraising efforts of the Ace Hardware Foundation and the generous contributions of Ace retailers, customers, vendor partners and team members.