Meet Your 2020 Red Vested Hero Award Winners
Each year, Orlando Health Arnold Palmer Hospital for Children recognizes our friends at Ace Hardware as "Red Vested Heroes" for their efforts in funds raised throughout the year. We all know that Ace is truly the helpful place – where they continue to serve as helpful heroes for the 135,000 patients who are treated at our hospital each year. It's no surprise that they continue to shine bright for our community. In fact, our Ace Hardware stores collectively received the Rising Star award from the Orlando Health Foundation for their continued increase in engagement, awareness, and fundraising throughout 2020. We are thankful for their support in helping sick and injured kids throughout our community and are proud to share that our 44 Central Florida Ace Hardware stores raised $172,622.87 in 2020.
We also want to recognize our 2020 Red Vested Hero award winners who went above and beyond in making miracles possible for Orlando Health Arnold Palmer. Our Red Vested Hero awards are given out to our top three fundraising teams who work year-round to educate customers about the impact they can make. Whether it be through the rounding up of change at the register, selling miracle buckets or chocolate bars, our award winners continue to lead the way in changing kids' health, and changing the future for every child served by our hospital.
Congratulations to our 2020 Red Vested Heroes:
Ormond Ace Hardware #15179 (Highest overall fundraising – $13,170.10)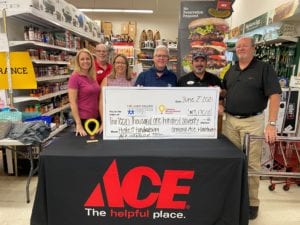 Madden's Ace Hardware #14359 (Second highest overall fundraising – $10,065.03)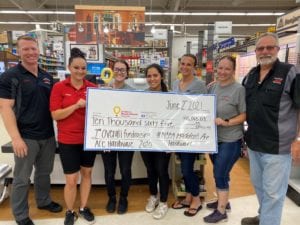 Ace Hardware (Titusville) #1536 (Third highest overall fundraising – $8,865.08)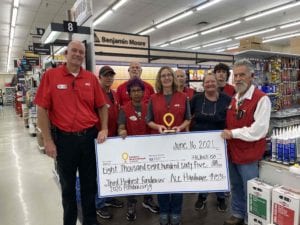 Lastly, we want to acknowledge a very special store who received this year's "You've Nailed It" award. This award is given to the team with the highest percent increase in funds raised from the previous year. Congratulations to the incredible team at Ace Hardware (Titusville) #16419 who achieved a 197% increase in funds raised from 2019.
Ace Hardware (Titusville) #16419 (Highest Percent Increase – 197%)