Round Up at Ace Hardware this July to Change Kids' Health
Ace Hardware has always been known as the helpful place for their customers, but also for the patients and families served by Orlando Health Arnold Palmer Hospital for Children. As a supporter of our mission for nearly three decades, Ace Hardware continues to drive home the importance of serving our local community by participating in various fundraising campaigns.
Throughout the month of July, Ace Hardware will be host its annual Round Up campaign to benefit Orlando Health Arnold Palmer. Customers will have the opportunity to round up their change or make a donation at the register. A little change goes a long way! Did you know that last year our Central Florida Ace Hardware stores raised more than $25,000 in just four weeks…. All through customers rounding up their change?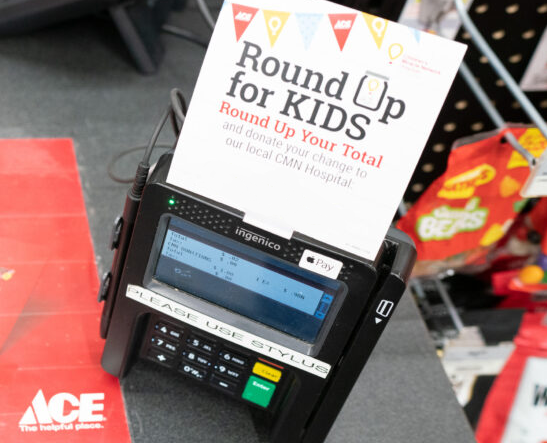 We are so thankful to have the continued support of our Central Florida Ace Dealer group and stores throughout Orlando who continuously go above and beyond to help make change happen for the kids. Thank you to our participating locations who help change kids' health, and change the future.
Store Name
Apopka Ace Hdw/Lbr Inc., Apopka, FL
DG Ace Hardware, Bunnell, FL
ACE Handiman, Cape Canaveral, FL
Ace Handiman Hardware, Cocoa Beach, FL
Madden's Ace Hardware, Daytona Beach, FL
Madden's Ace Hardware, South Daytona, FL
Ace Hardware of DeBary, Debary, FL
Ace Hardware of Deltona (Elkcam Blvd.), Deltona, FL
Ace Hardware of Deltona #2 (Fort Smith Blvd.), Deltona, FL
Madden's Ace Hardware, Holly Hill, FL
Maitland Ace Hardware, Maitland, FL
Ace Hardware of Palm Bay, Malabar, FL
West Melbourne Ace Hardware, Melbourne, FL
College Park Ace Hardware, Orlando, FL
Conway Ace Hardware, Orlando, FL
Colonial Ace Hardware, Orlando, FL
Avalon Ace Hardware, Orlando, FL
South Orange Ace Hardware, Orlando, FL
Orlando Ace, Orlando, FL
Ormond Ace Hardware, Ormond Beach, FL
University Ace Hardware, Inc., Oviedo, FL
DG Ace Hardware (Saint Joe Plaza Dr.), Palm Coast, FL
DG Ace Hardware (Flagler Plaza Dr.), Palm Coast, FL
Ace Hardware (S. Washington Ave.), Titusville, FL
Ace Hardware (Garden St.), Titusville, FL
D'S Ace Hardware, Saint Cloud, FL
Route 46 Ace Hardware, Sanford, FL
Bray Hardware Company Inc., Winter Garden, FL
Aloma Ace Hardware, Winter Park, FL