Ventilators purchased with CMN donations for UNM Children's Hospital
Each year, thousands of New Mexicans come together to fundraise over $1.5 million dollars through Children's Miracle Network (CMN) for UNM Children's Hospital (UNMCH).  All funds given to UNMCH through CMN campaigns are "unrestricted," which allows our hospital to use them wherever they're most needed.
Historically, donations are distributed to support special programs like Child Life and Music Therapy, as well as to purchase supplies and life-saving equipment.  UNM Hospitals is New Mexico's only "safety net" hospital system, allowing all patients to receive the best care regardless of their ability to pay.  This already creates a 15% deficit for hospital operations each year, yet UNMCH continues to be a patient and family-centered hospital, spending time and resources to ensure every member of a child's family receives care and attention during their visit.  This is possible because of donations through Children's Miracle Network, raised one dollar at a time.
In 2019, UNMCH used funds raised by corporate partners like Walmart and Sam's Club, Speedway, Costco, Panda Express, ACE Hardware, Dairy Queen, IHOP, Re/max, Credit Unions 4 Kids, and many others, for new equipment that would later become critical for saving lives during the Covid-19 pandemic in 2020.  $239,400 went towards purchasing 7 life-saving Puritan Bennett 980 Ventilators, pictured below, including all required accessories.  These ventilators are used by UNMCH Pulmonary Services' team wherever they're needed most, and now, they're being used to support our most critically ill patients.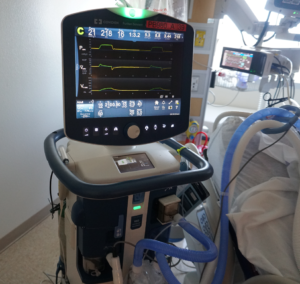 Every dollar contributed through CMN campaigns goes somewhere special in the hospital, from a box of crayons for the art therapy program or a movie rental for Child Life's family nights, to incubators for our Neonatal ICU and life-giving ventilators to fight covid-19.  One dollar at a time, New Mexicans are making a tremendous difference in our hospital's ability to keep New Mexicans safe.
UNM Children's Hospital sees over 66,000 patients each year.  As the only dedicated Children's Hospital, level-1 trauma center and level-1 burn center in the state, UNMCH serves children from all 33 counties in New Mexico as well as from Colorado and Arizona.  With 29 specialties, many of which have the only specialist in the state, patients often travel hours to access the care they need.  UNMCH offers family assistance programs for food and travel, emotional and educational support programs through Child Life, and the best life-saving equipment possible through donations from people like *you*.