ABC15 Telethon Breaks Fundraising Record for Phoenix Children's Hospital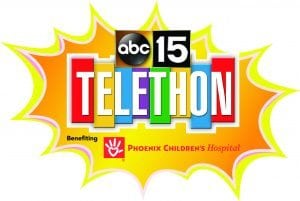 Seventh Annual ABC 15 Telethon Breaks Fundraising Record for Phoenix Children's Hospital
More Than $810,000 Raised to Fund Patient Care, Programs and Services
ABC15 and the community at large raised $810,857 for the health, hope and healing at Phoenix Children's Hospital during the seventh annual ABC15 Telethon on Tuesday, April 10 – a record for the annual event.
The event, broadcast live from the Hospital campus, included appearances from ABC15 on-air personalities, a phone bank staffed by sponsors and community volunteers, celebrity cameos and inspirational stories shared by the hospital's superhero patients.
"We are astounded by how the community stepped up to support the cause," said Steve Schnall, senior vice president and chief development officer of Phoenix Children's Hospital Foundation. "These funds will help Phoenix Children's provide the best patient care to our most vulnerable population – kids."
Every dollar raised during the ABC15 Telethon directly impacts care, critical programs and services provided to patients and families.
The ABC15 Telethon will return in early April 2019. If you missed the Telethon, it's not too late to donate to the cause. Visit phoenixchildrensfoundation.org to contribute.
Corporate sponsors and partners make the ABC15 Telethon possible. Sponsors include: Desert Financial Credit Union, Dutch Bros., Horne Kia, Iron Doors Arizona, Jersey Mike's Subs, Sanderson Ford & Lincoln and Scripps Howard Foundation. Additional partners include: Ace Hardware, All American Classics, American Textile Recycling Services, Ameripark Valet and Macerich, Arizona Central Credit Union, Big O Tires, Chipotle Mexican Grill, CoolEvents, Fry's Food Stores, Gila River Hotels & Casinos, Harley-Davidson of Scottsdale, IHOP, Lerner and Rowe Gives Back, Macy's, Mazda Dealers of Phoenix, Night To Shine for Reese, Panda Express, Quicken Loans, Sagicor Life Insurance Company, Sam's Club, Smashburger, Stream Logistics, The Reyes Family, Valley of the Sun Active 20-30 Club / Valley Kids Foundation, V.I.P. Mortgage, Inc., Walmart and Whataburger.
About Phoenix Children's Hospital
Phoenix Children's Hospital is Arizona's only children's hospital recognized by U.S. News & World Report's Best Children's Hospitals. Phoenix Children's provides world-class inpatient, outpatient, trauma, emergency and urgent care to children and families in Arizona and throughout the Southwest. As one of the largest children's hospitals in the country, Phoenix Children's provides care across more than 75 pediatric specialties. The Hospital is poised for continued growth in quality patient care, research and medical education. For more information about the hospital, visit phoenixchildrens.org.