Congratulations to our partners who received awards at Children's Hospitals Week.
English Radio Station of the Year
This award recognizes the efforts of a member station in promoting children's hospitals as a cause, and helping to raise the funds and awareness that will bring miracles to the children who need them.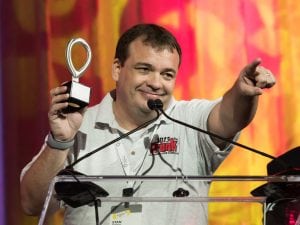 We depend on every one of our hospitals who host a Radiothon to tell our story and tell the story of the families in our care. Frank 107.5 and 99.9 The Wolf has done this beautifully – raising nearly $2 million for The Barbara Bush Children's Hospital, the only children's hospital in Maine. The Portland community is deeply proud of this team and their year-round efforts bringing awareness to the funds needed for local kids.
The 13th annual Cares for Kids Radiothon takes place March 15-17.
Congratulations to Frank 107.5 and 99.9 The Wolf for receiving the award for the 2017 English Radio Partner of the Year.
Hispanic Radio Station of the Year
This award is presented to one of our partner Hispanic radio stations for the hard work and commitment to raising funds and awareness in the community to support their children's hospital.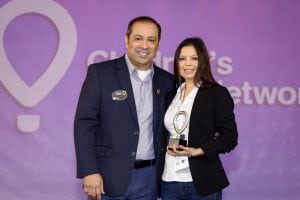 Led by Program Director Elena Jovel, this event is a true labor of love for the entire staff. With most of the on-air talent living in Los Angeles and syndicated into multiple markets, to participate in the radiothon the programming staff records multiple days worth of shows for other cities, then flies up to Oakland to broadcast live for two 14 hour days.
Elena is the first person to arrive each day and last to leave, doing everything in her power to make sure the phones never stop ringing for our kids.
Please join us in congratulating Elena Jovel and 93.3 La Raza as Hispanic Station of the Year.
Television Station of the Year
This award recognizes one of our partner TV stations for their hard work and dedication to making sure that every child that enters a children's hospital has a chance for their story to have a healthy ending.
ABC 10 Sacramento has a passion for helping sick kids. They are innovative leaders in setting the standards for implementing a new mediathon format.
Not only do they helps kids locally, they have also spent the last three years pitching stations across the country so that they too could be successful in raising funds for their communities. The stories that they have shared with viewers have highlighted the lifesaving work of the hospital.
Through the various program and service lines collaborations, their year-round partnership allows viewers to keep the hospital top of mind monthly to help set UC Davis Children's Hospital apart from other area hospitals.
We are honored to present this award to ABC 10, Sacramento.
Corporate Person of the Year
This award recognizes an individual working at the corporate, national, regional or district level of a CMN Hospitals corporate partner. The recipient of this award has shown great leadership and innovation during fundraising campaigns.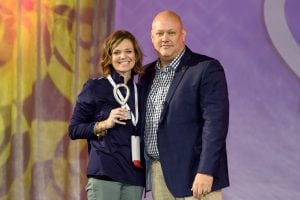 Chris Doucet led the charge in 2016 to roll out Round Up at the pin pad. In her first year, Ace Hardware had 849 retailers participate raising over $1.8 million. In 2017, 1,270 retailers participated in Round Up almost doubling their funds raised at the pin pad to nearly $2.8 million.
Since Chris joined the Ace Hardware Foundation, they have grown their cumulative fundraising from $5.8 million to over $11 million. She manages a team that raises funds for CMN Hospitals 365 days a year through corporate, vendor and retail fundraising.
Traveling the United States, she speaks to retail groups about fundraising opportunities including: World's Finest Chocolate, Buckets, Canisters and Round Up.
We are proud to work with Chris each year. We are in awe of her passion, commitment and dedication to raising funds for children at our partner hospitals. Congratulations to Ace Hardware's Chris Doucet, 2018 Corporate Person of the Year.
Corporate Partner of the Year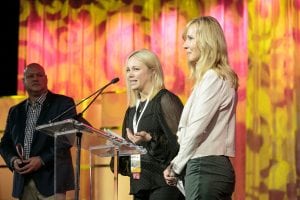 This award goes to an outstanding organization which is utilizing their stores, employees, managers and patrons to make a difference.
In 2017, Costco celebrated its 30th anniversary as a fundraising partner for CMN Hospitals and raised over $36 million in the U.S. and Canada. Amazingly, they raised over $1 million during the first day of their annual fundraising campaign last May. Thank you, Costco, for all you do for local kids!
Victoria Enmon Award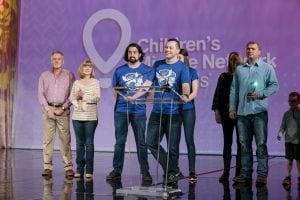 Each year, Extra Life recognizes the hard work, long hours and dedication that program directors put toward the Extra Life program. Through the Victoria Enmon award, we honor those people who have made significant contributions, both locally and nationally, while ensuring Tori's legacy continues to shine.
While there are a lot of helping hands, Donna Fischer is truly making a world of difference. Whether it's the incredible stewardship of local Extra Lifers, generating increased fundraising dollars or tirelessly nurturing the Extra Life program, Donna is a constant voice of positivity and encouragement to inspire others near and far… Congratulations to Donna Fischer from Riley Hospital for Children on being the 2018 recipient of the Victoria Enmon Award!
Dance Marathon Person of the Year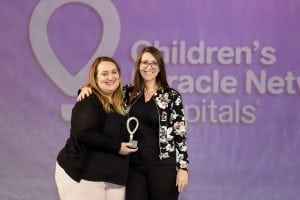 This award will be given to recognize a program director who exemplifies fantastic support and strategic direction of their Dance Marathon programs.
Through her work with Dance Marathon, the programs in her market have not only seen continued success year over year but also have innovated within their programs to bring best practices to the entire Dance Marathon movement. Your 2018 Dance Marathon Person of the Year: Sarah Franz, from Riley Hospital for Children.
English Radio Person of the Year
This award recognizes an individual from one of our partner stations for helping save kids' lives by telling their stories and spreading the news that children's hospitals are where miracles happen every day for kids.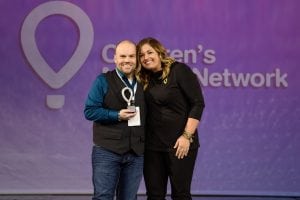 12 years ago, Chris Carter started Radiothon in Sioux Falls. This year, he and his team grew Radiothon from $216,000 to $301,000. He is special for so many reasons. What is even more special, is the bonds he forms with each miracle family that crosses his path.
When miracle families were recently asked to describe him, they called him a friend they'll forever cherish, someone who takes time to get to know the kids and their families, a compassionate and caring man. Dedicated. Supportive. Someone who takes their talents beyond radio and impacts the lives of thousands of children. The voice of making miracles happen.  A man who beyond doubt, has the ability to bring hope to the despaired, laughter to the saddened, comfort to the forlorn and strength to those feeling weak.
Congratulations to the English Radio Person of the Year, Chris Carter of KTWB.
Hispanic Radio Person of the Year
This award is presented to an individual or team from one of our partner Hispanic radio stations for their efforts in advancing the cause of children's hospitals and the kids and families who need them.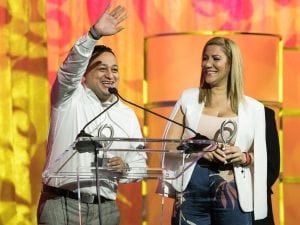 This dynamic on-air duo is incredibly passionate about inspiring their listeners to pick up the phone and become Miracle Makers, or in this case, Creadores de Milagros. They are known to say the phone number as many as 15 times in a row, lighting up the phone bank at Children's National with 50 callers at one time! That enthusiasm translates directly into dollars, as the radiothon just celebrated its 10th anniversary and $3.8 million in lifetime fundraising!
Congratulations to Chepe and Patricia, hosts of the El Zol-107.9 FM morning show.
Television Person of the Year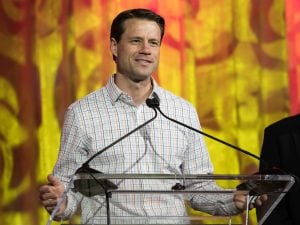 This award is presented to a member of one of our partner TV stations, recognizing their contributions in telling the stories of the children and families who rely on their local children's hospital.
Jere Gish believes in the power of storytelling. Whether he's hosting events like a gala or Telethon, Jere finds the story and families trust him to tell it well. He's watched these kids grow, celebrated their highs and empathized with their lows. By sharing our stories, he has inspired so many to give.
Congratulations to Jere Gish from WGAL-TV8 Harrisburg-Lancaster, 2018 Television Person of the Year.
Local Corporate Person of the Year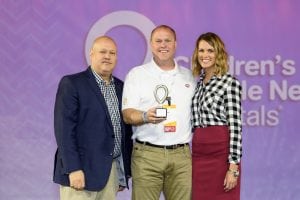 This award recognizes an individual at the grassroots level associated with a CMN Hospitals Corporate Partner, whose tireless efforts have made a difference in the lives of kids served by their local CMN Hospital.
It's a rarity to find someone more passionate about CMN Hospitals and Blizzards than DeLon Mork.
DeLon will always be there for anyone who needs him and expect nothing in return. When we recently asked a local family to describe him, they were right in saying the way he treats others is an inspiration for everyone around him to do the same. He's the kind of guy who, although he deserves it, does not desire spotlight on him for his support of his community. He, and his passion for the cause, is truly one of a kind. Congratulations, DeLon, and thank you for all you do for Dairy Queen and Children's Miracle Network Hospitals.