In Just Four Days, Ace Hardware Raised Over $2 Million for CMN Hospitals
Last month, Ace Hardware employees, vendor partners united with patients and families from Ann & Robert H. Lurie Children's Hospital of Chicago to raise money for Children's Miracle Network Hospitals at the 27th Annual Ace Hardware Vendor Golf Outing. The golf outing brought together more than 1,000 golfers on seven different courses, as well as countless employee volunteers, to raise more than $1.3 million for Children's Miracle Network Hospitals.
The three days following the golf outing, Ace Hardware retailers across the country held their annual Bucket Weekend promotion, which asks customers to make a $5 donation to their local children's hospital in exchange for 20% off of whatever they can fit inside their special CMN Hospitals bucket. The 2018 promotion raised nearly $750,000 nationwide and nearly $40,000 in Chicago and Northwest Indiana.
Together, these fundraising events raised more than $2 million for Children's Miracle Network Hospitals in just four days. That's more than $20,000 each hour and nearly $350 each minute of the four day period.
Inspired by Ace's commitment to raising funds for children's hospitals, the Lurie Children's patients and families at the golf outing began their own "Ace Bucket Challenge" to see who could take the most creative photo with their buckets. Here's a look at how things went…
It all started when Graham, brother of Lurie Children's patient Gia, snapped a pretty cute photo inside his Ace bucket…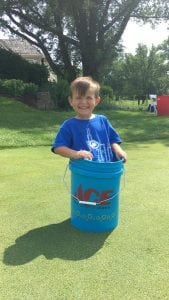 Not to be outdone by her little brother, Gia climbed on her mom's shoulders for this epic Boomerang!
Then, superhero siblings Nolan and Sophia soared on top of their Ace buckets…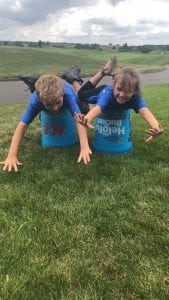 …and then did some flips and tricks with their dad…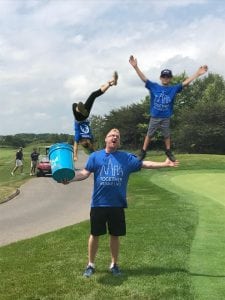 While their brother Matthew took some time to enjoy the sun with their mom, Sue!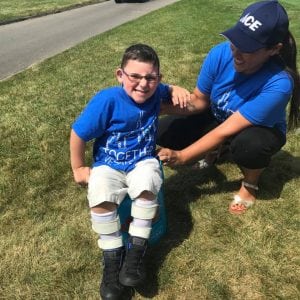 Ellie, Ace's first-ever All Star, kept things cool while she rocked her shades inside her Ace bucket…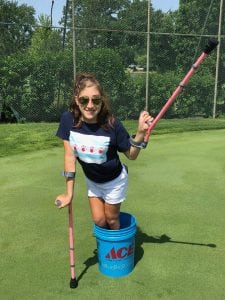 While her mom, Nikki, opted for a more zen approach.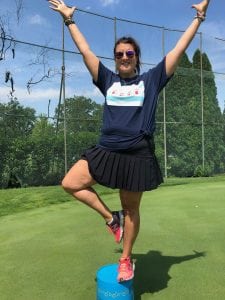 Inspired by Nikki's yoga, Chase's sister, Darcy, held her bucket on a bridge while he found some shade for his lemonade sale!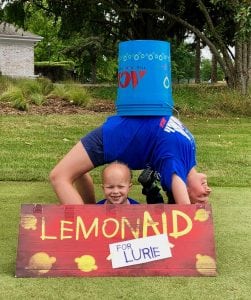 Speaking of shade, Charlie took a break from the sun and rocked his bucket as a hat…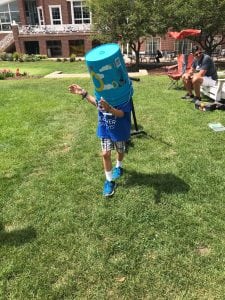 Which gave Teddy an idea of how to get some peace and quiet on the golf course while his brother Charlie relaxed inside his bucket…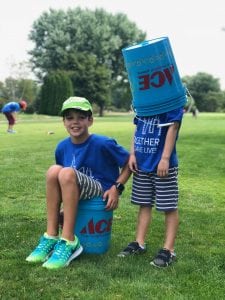 While their brother Benjamin practiced his golf swing.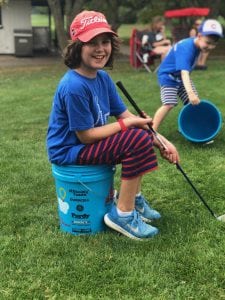 The Bucket Challenge didn't end at the courses though! Many of the families brought their bucket creativity to Ace Hardware's in their local neighborhoods during Ace's Bucket Weekend and encouraged others to support their local CMN Hospital by buying their own bucket!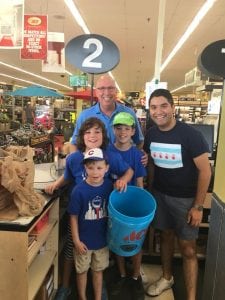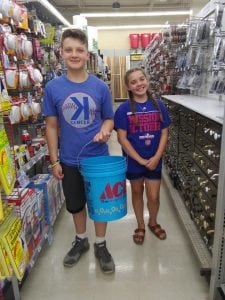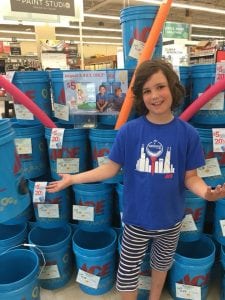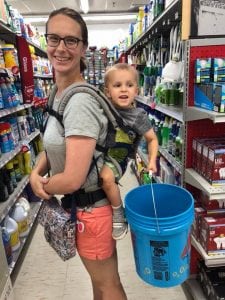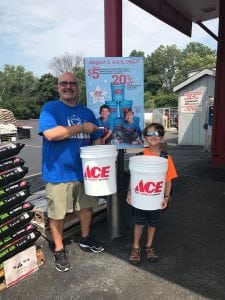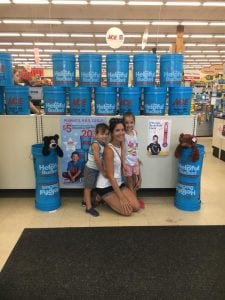 On behalf of all the patients, families, doctors and nurses at Lurie Children's and CMN Hospitals across the country, thank you to Ace Hardware – especially our local Chicagoland and Northwest Indiana stores – for an incredible four days of fundraising #ForTheKids and thank you to everyone who came out to support the golf outing and Bucket Weekend!
#AceCaresForKids