October 5 is Child Health Day and our partners know Kids Can't Wait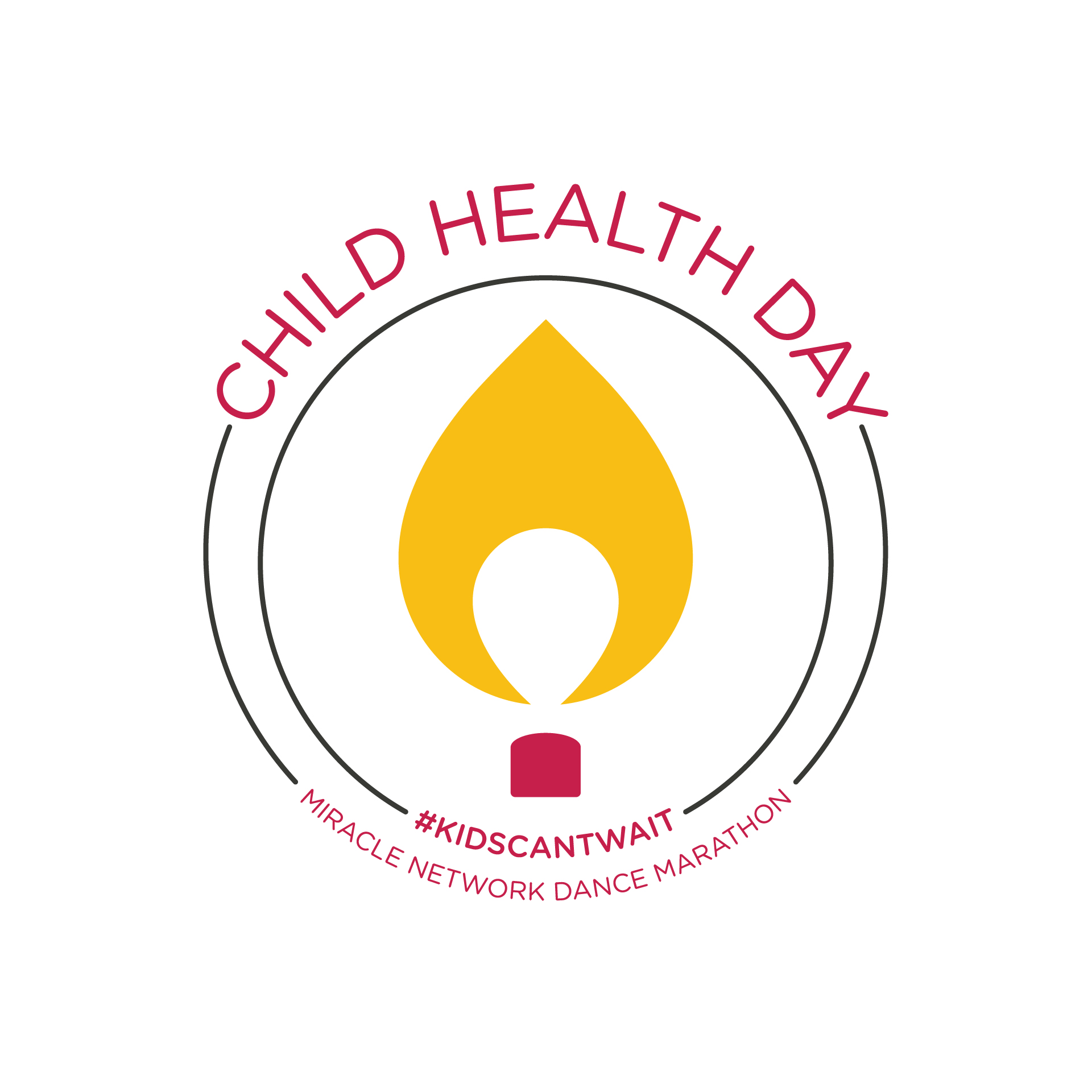 On Monday, October 5, Miracle Network Dance Marathon and supporting partners of Children's Miracle Network Hospitals will come together to celebrate Child Health Day.
This year on Child Health Day, thousands of Dance Marathon participants, alumni and community members will rally together for local kids and a range of child health issues. By participating in the day, you are helping CMN Hospitals address the most challenging health issues of today while preparing for those to come. Today, we can raise critical funds needed to save more kids' lives and protective our collective future and share the message that Kids Can't Wait, they need care now.

Children's Miracle Network Hospitals is proud to partner with Ace Hardware, Marriott International, Marriott Vacations Worldwide, Aflac, United Networks of America and Air Canada Foundation to celebrate Child Health Day.
This year, more than ever before, we know that kids can't wait. For treatment. For a vaccine. Or to transform how we meet the most urgent needs and save more lives. The importance of children's hospitals and how donations help kids get the urgent care they need is a critical discussion now and in the years ahead because when we change the health of even one child or family, we create a ripple effect felt by our communities for years to come.
Thank you to the following corporate partners who have made the needs of children's hospitals across the United States and Canada a cause worth supporting.
The Ace Hardware Foundation, a 501(c)3 organization, exists to enhance Ace Hardware's vision of being the "Helpful Place" in local communities through philanthropy. Ace Hardware has supported CMN Hospitals for nearly three decades through the company's annual Miracle Bucket sales, Round Up at the register and the creative fundraising efforts and the generous contributions of Ace retailers, customers, vendor partners and team members.
Marriott International holds the distinction of being Children's Miracle Network Hospitals' longest standing corporate partner. Its associates and guests raise funds through hosting large-scale events, icon campaigns, conducting unique fundraising events at individual properties, and much more.
Marriott Vacations Worldwide is committed to social responsibility through corporate financial contributions, fundraising efforts and in-kind giving. Since 1983, Marriott Vacations Worldwide has passionately supported Children's Miracle Network Hospitals as a year-round fundraising partner.
Since 2016, Aflac has partnered with CMN Hospitals to raise funds and awareness for our US-based hospitals through programs such as Hero Duck, Holiday Duck, and My Special Aflac Duck®, designed to empower and bring comfort to childhood cancer patients across the nation.
United Networks of America (UNA) is one of the largest providers of value-added managed care products and services in the United States with just over 120 million members. In each state, UNA administers its State Rx Savings Program, which provides savings on prescription medications and requires no enrollment. The benefits can be used by individuals who are uninsured, underinsured, have no prescription benefits or take non-covered medications.
The Air Canada Foundation provides hundreds of flights each year through their Hospital Transportation Program, redistributing million of Aeroplan Miles so that patients and their families can receive the care they need. The Foundation also supports hospitals with monetary grants to fund specific hospital needs, provides airline passes for hospital fundraising events and has sponsored the Canadian Champions program for four consecutive years.